Let Our Magic Tell Our Story!
In the past years the concept of Immersive Storytelling has taken root in Art and play, entering fields such as theatres, documentaries, games and education. The idea is to break the barriers between spectator and media and to create a 'real life' experience – for amusement or instruction – mostly by using digital technologies such as 3D gaming and virtual reality (VR).
Magus Cagliostro has been using principles of Immersive Storytelling and 'real life' experience in a different way:
It all began when we searched for creative ways to bring new audiences to museums and to control audience flow. Our first project was in the Israel Museum, where we turned the entire museum into a huge escape room.
The idea was to use principles of Immersive Storytelling to create a fascinating story that is based on the museum's contents, but which takes place entirely within the players minds. And we did it without using any digital technology whatsoever. Virtual reality was achieved by purely analogue means, relying on the audience's own power of imagination.
The story is based on a specific scene and its contents – whether it is Art, history or science. By doing this, the plot merges with the scene and the players become closely involved with it as they follow the game.
We received marvelous reactions from the participants. The experience seemed to be deep, emotional and unforgettable. In fact, we never imagined it would be so successful.
Let our magic tell your story!
This is the seminal moment in which the boy discovered his roots, realizing that an invisible bond connected him to the magnificent occultist and rebel Cagliostro. As he read, he learned that Cagliostro wandered through Europe in the 18th century using his secret powers to heal the poor and defy the rich. The young magician ran his fingers over the words again and again, vowing to bring his magic to the darkest recesses of the city, to ignite the hearts of the people, young and old, poor and rich, with his magic. Indeed, he was no ordinary magician.
Scroll down to see the different kinds of magic we create:
The most up to date version of Escape Rooms is here!
An upbeat, unique, avant-garde custom-made rapid contest that wins everyone's attention immediately. In this digital era of rapid simultaneous communication, Speedy Escape fits right in, creating a quick, spontaneous switch to "Out of The Box" thinking, which is the key element to solving the game.
Speedy Escape is an exceptional quality attraction that captivates just everybody. It's a sophisticated game designed for both large and small audiences. Its format resembles TV gameshows, except here the audience themselves are your heroes and players.
The basic principles follow those of regular escape rooms, but the length, location, difficulty and character of the escape activity are determined according to the theme of the event or company.
The game consists of tailor-made riddles specially designed for the theme or the brand involved. The players work together in groups in search for the codes to the escape boxes. The challenge involves a tight time limit!
Groups of 3-6 people work together simultaneously. Each group gathers around one box. There can be 8-10 boxes or more, depending on the theme, location and budget. After solving each riddle, the group moves on to the next box, with a higher level of difficulty, until they reach the final stage.
Speedy Escapes are perfect for conventions, workshops, training seminars, party celebrations, ODT, family gatherings, museums and festivals. We also have a special version for children or families.
We're always ready to come up with an original idea for your brand's Speedy Escape.
Contact us now for a brief review of our unique design, custom-fit for your event theme, and we'll be happy to meet up for further details.
Here is a clip from Galaxy Championship, a Speedy Escape game that took place in Madatech Science and Technology Museum, Haifa, in April 2019 (during Passover holiday)
✧ Inhouse Immersive – Seminars and Workshops ✧ 
Immersive storytelling for museums – a full day workshop
09:00-18:00 – Immersive techniques and tools implemented for marketing, business and cultural establishments.
Everyone talks Immersive. It's the hottest term in the field of storytelling: Google, museums, escape rooms, immersive theatre – the Immersive experience is everywhere.
Our immersive experts are ready for you with an innovative full day seminar & workshop, designed for an inhouse team training. Our goal is to get you acquainted with our tools and help you create your own magical Immersive experience, adapted to your content and budget.
Immersive storytelling is a medium that takes real life elements and uses them to invent fiction. It's a reality-based tale, whether it is carried out by means of digital or physical tools. People adore stories well told, and the immersive experience relies on the feelings brought on by such stories.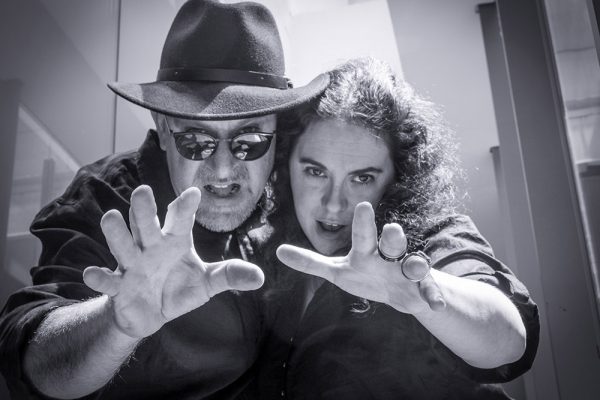 Day Outline
Immersive 101 – Mayan Rogel (lecture):
What is an Immersive experience? What are its origins and characteristics? What are the tools used by the Immersive Artist, and what does all this have to do with computer games? 
Think like a magician – Magus Cagliostro (lecture)
Workshop – Inhouse Immersive:
A workshop for brainstorming and idea development with the firm's content development and marketing teams. The firm's aims and needs will be identified, along with the organic tools at its disposal. During the workshop, ideas will be managed and analyzed, available recourses identified, and an initial format for an Immersive experience will be sketched in outline, to be developed later on by the firm's content team. 
Final words and summary – Magus Cagliostro and Mayan Rogel
Nothing is really as it seems…
We've all been to museums. When we visit a museum, we normally expect to be given true, reliable information about authentic displays. Our Chaos Shows break all these expectations, turning the whole concept of exhibitions into something completely different. 
At first glance, nothing is suspected. Everything gives the appearance of a serious show about art, science, archaeology etc. Then gradually the rules seem to change. The visitors discover riddles hidden among the exhibits, and it turns out they must solve them in order to escape the museum and save the world.   
In fact, the visitors enter a world of chaos. Their initial assumptions are turned over.
Any information might be disinformation.
Every word must be suspected.
Every item must be thoroughly examined for clues.
Only the spectators themselves can bring back order, and they can do so only by breaking conventional patterns of thinking. 
The entire setting of the museum is altered for the show: captions include fictional texts, fake news is displayed on screens, even the museum guards become "Chaos Agents". 
Let us turn your world upside down, and create a new and exciting museum experience for you.
✧ Newspaper Escape Game ✧  
Immersive adventure at home: An escape experience in a newspaper